This is one of my go to Old Fashioneds.  The spice of the habanero shrub and the touch of sweetness of the agave complement the dark complex flavors of the aged rum.  I make this as an essentially built drink.  Just add the ingredients to your old fashioned glass, give it a stir and then add ice.  Initially, the cocktail will be strong but then mellows and chills as you sip and swirl the glass.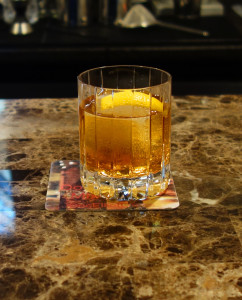 2 ozs. 15 Year Old Barbancourt Rum
1-2 dashes Bitter Truth Habanero Shrub
1/8 oz. Agave Nectar
Lemon peel for garnish
Add all ingredients, minus the garnish, to an un-chilled  old fashioned glass.
Stir to combine then gently add a large ice cube.
Express the lemon peel over the drink and drop it in.
Cheers!
---