Gin and Beer Tonic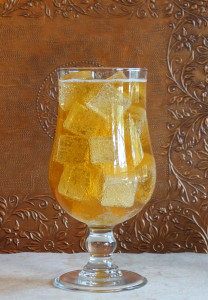 While perusing the beer cooler at my favorite liquor store I spotted a bottle of Dogfish Head Namaste Beer. What caught my eye was the label listing orange, lemongrass, coriander and peppercorns as ingredients. We were in the process of preparing a Tonic Bar for a gathering we were hosting. The ingredients listed on the Namaste label were also going to be on our Tonic Bar. So, I thought, why not try using beer in the Gin and Tonic? It works!
We used our homemade tonic syrup. It's easy and quick to make. However, you can purchase any of several brands of Tonic Syrup. We enjoy Jack Rudy's and Liber & Co. When making tonic water from tonic syrup, you combine the syrup with carbonated water. This recipe substitutes beer for the carbonated water. So, whatever tonic syrup you're using, just substitute the carbonated water with beer. Beer's better than water anyway!
I used Hendrick's Gin for this cocktail.  The herbal qualities of their gin worked perfectly with the Namaste.  Whichever gin you choose, when preparing this cocktail, try to pour slowly and stir carefully to reduce foaming.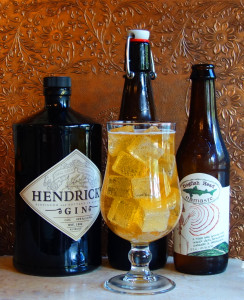 2 oz Hendrick's Gin
1 ½ oz tonic syrup
4 ½ oz Dogfish Head Namaste
Orange peel for garnish – optional
Combine all ingredients in a mixing glass with ice and stir to chill
Strain into chilled glass over fresh ice
Cheers!
---