John Dandy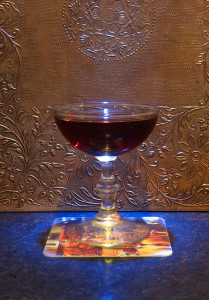 Bourbon goes with many things, but apples, cinnamon and chocolate top my pairings list.   For the bourbon in this cocktail, I used Ranger Creek's .36 Texas Straight Bourbon Whiskey which gently nips but doesn't bite.  It brings the flavors of vanilla, cinnamon and a touch of oak.  If you choose a different bourbon, I suggest something that isn't overly smooth.  I used Bigallet China-China Amer as a modifier.  Alone, this liqueur tastes of bitter orange, citrus, and cherries with an earthy, root touch similar to cola, (think bourbon and coke).  I added the bitters for complexity and to introduce chocolate, additional cinnamon and a bit of dried fruit from the fig bitters.
---
John Dandy
The nose of this Manhattan-esque cocktail is bright orange, fruit, vanilla and cinnamon.  The initial flavors are apple, vanilla with a touch of oak, followed by chocolate, dried fruit and a bit of spice.  The earthy tone comes late and the finish is fruit, spice, cinnamon and vanilla.  As noted below, don't get this cocktail too sweet.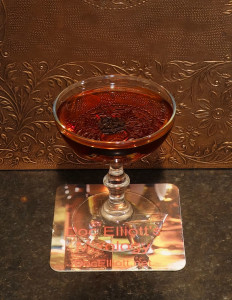 1 oz. Bourbon
1 oz. Laird's Applejack
1/4 oz.

Bigallet China-China Amer

1-2 dashes 2:1

Demerara

simple syrup – depending on the sweetness of your maraschino cherries
1 dash Fees Brothers Aztec Chocolate Bitters
1 dash Brooklyn Hemispherical Black Mission Fig Bitters
Orange peel for garnish
Maraschino cherry for garnish
Chill a coup or other stemmed cocktail glass with ice and water
Combine all of the ingredients except the garnishes in a mixing glass with ice
Stir to chill and strain into chilled glass
Express orange peel and discard
Add cherry
Cheers!
---