Lily's Aperitif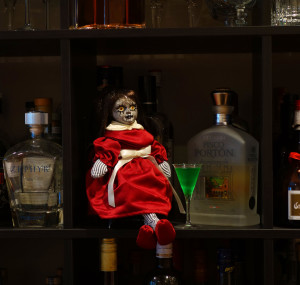 I saw somewhere a cocktail recipe that contained Gin, Suze and Blue Curaçao.  The drink was, of course, a brilliant green.  So in my pursuit of holiday cocktails, this was perfect!  This wonderful aperitif is named after Lily the Haunted Doll.  She is the slightly creepier version of the Christmas surveillance doll "Elf on a Shelf." The idea being that, after you adopt her, she haunts various places in your home.
For the cocktail, we chose the slightly floral Oxley Gin, Suze, Carpano Dry Vermouth, and blue curacao.  The nose is bright with citrus and juniper from both the Gin and Suze.  The taste is bittersweet with orange, botanicals, and a bit of spice.  The finish is long with juniper, a touch of pine and gentian.
Ingredients
1 oz. Oxley Gin
2 oz. Suze
1 oz. Dry Vermouth
1/2 oz. Blue Curaçao
2 drops Doc Elliott's Actually Bitter Orange Bitters
Lemon peel for garnish
Chill a cocktail glass with ice and water
Combine all ingredients except the garnish in a mixing glass with ice and stir to chill
Double strain into chilled cocktail glass
Express the lemon peel over the drink and discard the peel
Cheers!
---