Rakia Ximénez
This cocktail combines the fruit flavors of Dorcol's Kinsman Rakia Apricot Brandy with the sweet sherry flavors of Pedro Ximénez.  Then the dried chile notes of the Ancho Reyes weigh in.  Finally, on the finish, the slightest heat from the Habeñaro Shrub can be appreciated.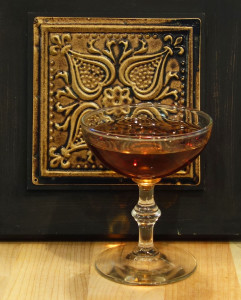 1 1/2 oz. Kinsman Rakia Apricot Brandy
3/4 oz. Pedro Ximénez Sherry
1/4 oz. Ancho Reyes
4 Drops Bittermans Habeñaro Shrub
Orange peel for garnish
Chill a cocktail glass with ice and water
Combine all ingredients, except the garnish, in a mixing glass with ice and stir to chill
Strain into chilled cocktail glass
Express the orange peel over the drink and discard the peel
Cheers!
---