Sazerac
My go to libation while in NOLA!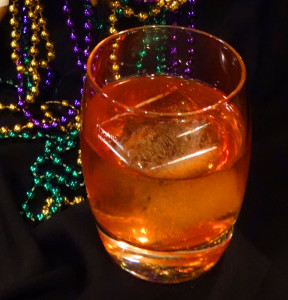 2 oz. rye whiskey
4 dashes Peychaud's Bitters
1 dash Angostura Bitters
1 tsp. 2:1 simple syrup
absinthe
lemon peel
Chill old fashioned glass with ice and water.
Combine all ingredients, except absinthe, to a mixing glass and stir with ice.
Drain ice and water from chilled old fashioned glass and rinse with dash of absinthe.
Strain drink into chilled, absinthe rinsed old fashioned over fresh ice.
Twist lemon peel over drink and discard peel.